Campus Dining & Shops (CDS) is committed to serving those with food allergies or intolerances. We take special diets and food allergies seriously. Students are strongly encouraged to contact our Registered Dietitian for guidance. She works one-on-one with students to develop an individualized plan that meets their specific dietary needs.
Nutrition assessment and counseling for food allergies and other dietary concerns is available with Janice Cochran, MS, RD at Health Promotion. For an appointment, call (716) 645-2837 x 0 or visit Health Promotion. For other accommodations related to a food allergy or sensitivity, call Accessibility Resources at (716) 645-2608, or visit the Accessibility Resources site for more information.
Allergen Labeling
Packaged and self-serve items in the dining centers are labeled if they contain any of the top 9 allergens or gluten. Detailed ingredient and allergen information is available at NetNutrition or by scanning the nutrition QR code. Fried foods will have "cross-contact may occur in fryer" listed on the nutrition label to alert you of any potential allergens.
Menus
Healthy options are available daily in the dining centers, including; steamed vegetables, grilled chicken, fresh fruit, brown rice, and a salad bar. In our retail operations, meals are customizable. Students can select ingredients to meet their specific dietary needs or personal preferences. While we label foods with the most common allergens, students must notify a manager before ordering to ensure their meal is prepared safely. Please keep in mind that recipes are not prepared in an allergen-free facility. We use dedicated cookware, utensils, and equipment in addition to good cleaning and sanitizing practice to prevent cross-contact in the kitchen. Students are encouraged to look ahead at the menu on NetNutrition and read allergen information before arriving in any dining location. Questions about ingredients or food preparation should be directed to a manager or the CDS Registered Dietitian.
Customized Meals in the Dining Centers
Menu options in the dining centers can be modified or individually prepared to meet specific dietary restrictions. Students are encouraged to contact the management team ahead of time to reduce wait times. Please contact the CDS Registered Dietitian for more information.
Mobile Ordering/Self-Order Kiosks
Many of our retail locations offer mobile ordering through the GET app or have self-order kiosks. Students are strongly encouraged to use the "Specify Allergens" section within the app or self-order kiosk to communicate their dietary needs to the management staff.
Students must add the allergen(s) they need to avoid to their cart before placing their order. Other dietary requests should be written in the order notes.
Please keep in mind, if no allergen(s) or special request is specified on the ticket, management is not alerted to prepare the meal separately from other orders.
Emergency Plan
The CDS Registered Dietitian can work with students on an emergency plan if needed. Epinephrine auto-injector devices are not available in the dining centers; therefore, we strongly advise students to carry their epinephrine device with them at all times. Managers are trained to recognize the common signs and symptoms of a food allergic reaction and to call for medical assistance immediately.
Simple Kitchen

Simple Kitchen is an access-controlled pantry for students with food allergy concerns and dietary needs located in Governors and Goodyear Dining Centers. The pantry is free from foods containing wheat, gluten, peanuts, tree nuts, fish, and shellfish.
This space reduces the risk of cross-contact by having dedicated equipment and verified ingredients. Students can safely prepare meals with ease in this home-like kitchen. For more information or access, please contact the CDS Registered Dietitian at dietitian@buffalo.edu.
Training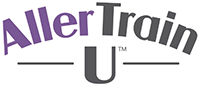 Allergen & Gluten Free Food Service Training: Our management team has completed the AllerTrainU certification course. This training covers essential information on how to serve students with special dietary needs such as food allergies, intolerances, sensitivities, and Celiac Disease in a university food service setting.