Campus Dining & Shops understands the importance of nutritionally balanced meals in the lives of busy college students. We are proud to serve a variety of menu options to meet your everyday food cravings, lifestyle and dietary needs. A wide selection of healthy options are available daily, including gluten free, vegan and vegetarian offerings, along with local and international cuisine. We believe that nutrition is the foundation of a healthy lifestyle and encourage students to utilize the tools and resources available to find a balance in their food choices at UB.
Meet Our Dietitian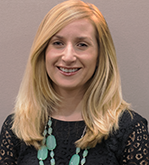 Lori Bendersky is a Registered Dietitian certified in New York State. She holds a Bachelor's in Dietetics from Michigan State University and earned her Master's in Clinical Nutrition from University at Buffalo.
As the Dietitian with Campus Dining, Lori reviews menus to help ensure students have access to healthy and nutritious foods on campus. She is available to provide the following:
Nutrition, ingredient and allergen information for foods served across campus.
Assist with dietary accommodations (i.e. food allergies, intolerances, sensitivities, religious, or medical restrictions).
Help navigate campus menus on NetNutrition to identify options that fit a variety of dietary preferences (e.g. vegan, vegetarian).Nutrition education and guidance on healthy eating to meet your personal health goals.
If you need special dietary accommodations or have questions relating to nutrition and wellness, please contact our Registered Dietition or call (716) 645-6445.
Disclaimers
Food Allergy Disclaimer
University at Buffalo Campus Dining & Shops treats food allergies and celiac disease seriously. Please be advised that menu options may contain gluten and other major allergens (soy, tree nuts, peanuts, wheat, eggs, milk, fish, sesame and shellfish). Every effort is made to identify ingredients that may cause an allergic reaction but manufacturers of commercial foods we use could change their formulation at any time, without notice. We also operate our own bakery and packaged food facility, which produces goods that contain nuts. We cannot guarantee the absence of cross‐contamination in our baked and packaged foods.
Food service employees are trained on the severity of food allergies and safe handling procedures to minimize cross-contact; however, there is always a risk due to the self-serve nature of our dining facilities and shared kitchens. Customers concerned with food allergies need to be aware of these risks.
UB Campus Dining services will not assume any liability for adverse reactions to foods consumed or come into contact with while eating at any University establishment. Anyone who may need to use an EpiPen® or other medication should be sure to carry that with them at all times. University at Buffalo Campus Dining and Shops does not provide, or have training in the use of, EpiPen®s or other medications.
Food allergy concerns should be directed to the Campus Dining & Shops' dietitian or unit manager.
Nutritional Information Disclaimer
All nutritional information is based on recipes. Any additions or substitution of ingredients or condiments may alter nutritional values. Although this data is based on standard portion product guidelines, variation can be expected due to seasonal influences, minor differences in product assembly per location and other factors. The University at Buffalo Campus Dining & Shops attempts to provide nutrition and ingredient information regarding its products that is as complete as possible, however errors in labeling could occur due to menu changes or substitutions.
Eating Healthy
Eating healthy can sometimes be challenging. Use the USDA's MyPlate as a reminder to choose all food groups at most meals in reasonable portions. You can build a healthy plate at UB!
Check out choosemyplate.gov for general information, nutrition and fitness tips, and personalized goals by downloading the MyPlate app.
Healthy eating resources:

Made In/Grown In New York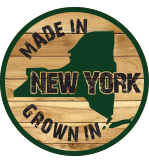 Campus Dining & Shops, in our effort to support sustainable living practices on campus, has become a member of the Made In/Grown In New York program. The program, developed and administered by New York State Department of Agriculture & Markets, was created to promote and support the sale of agricultural products grown and food products processed within New York State. Campus Dining & Shops has increasingly been purchasing both ingredients and foods from local producers. Currently, 20 percent of the campus dining services purchases are local. The logo and signs are displayed in locations where local food and beverage products are sold. The program's growing membership now includes farmers and processors, retailers, distributors, restaurants and related culinary and support associations all working together to bring consumers wholesome, quality New York State products.
Franchise Nutrition Information
Click on each logo below to view their nutrition information.