UB Snackin'
Welcome to UB Snackin'! Vending machines provide an alternative food and snack service 24-hours a day in a variety of locations around both campuses.
Convenience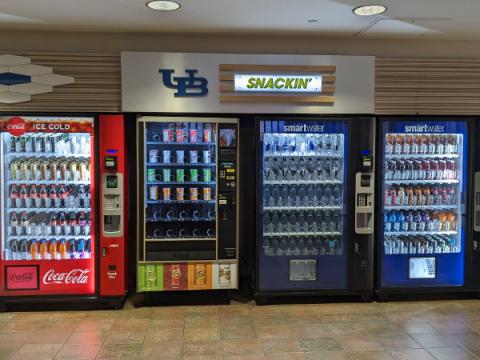 Our vending machines will accept either cash or your UB Card for purchases. Card readers have been installed on every machine on campus. The card readers are programmed to use Dining Points first and then roll over to Campus Cash after Dining Points are exhausted. Your UB Card works just like a debit card—the amount of your purchase is deducted from your account each time you make a purchase, and the card reader displays your remaining balance. No more scrambling for quarters when you want a snack; just swipe your card through the reader and make your selection. Paying with your UB Card makes using the vending services convenient and secure!
Most UB Snackin' vending machines are GET ready. To confirm that the machine at your location is compatible with GET, look for the Location Number on its sticker. Find out more about GET Mobile Access at the MyUBCard Manage GET Account page.
Variety
Expect an extensive assortment of your favorite national brands in the snack and beverage machines, with numerous selections stocked for those seeking healthier items. To round out the menu, subs, sandwiches and entrees will be stocked daily in our food machines. With machines prominently placed throughout campus, you're certain to find plenty to satisfy your cravings at any time of the day!

Smart Choice: Where can you find healthier snack and beverage options on campus? Look for the Smart Choice A+ icon! Healthy snacking is an excellent way to fuel your brain and to reach your daily nutritional goals. Items marked A+ must fit certain nutritional criteria including restrictions on saturated fat, sodium and added sugar. In addition, items must have a nutritional redeeming quality that benefits you!
Contains a serving of fruit or vegetable
Is an excellent source of whole grains and fiber
Meets less than or equal to 10% daily value for one or more nutrients: Calcium, Iron, Potassium and Vitamin D
Low in sodium: 600mg per entrée, 400mg per side and 200mg per snack
Fits into many diets including gluten-free, vegan, vegetarian, halal and kosher
Ensuring that our vending machines have healthier products ensures that you can make better choices on campus. Look for the A+ icon to make smart choices about your snacking today! Please keep in mind that many foods can be good choices if you use balance and moderation.
Attractive, Contemporary Equipment
Bold graphics, bright colors, and full-view glass front machines punctuate the state-of the-art vending equipment installed on the UB campus. To ensure the reliability of the equipment, treat it kindly and it will be in perfect working order whenever you need it! If a machine malfunction occurs, it can be reported to our service technicians by calling (716) 645-7355.
Special Product Promotions
We will sponsor contests throughout the year and prize giveaways to thank all of our vending customers. Check the message pad or look for flyers that will announce upcoming promotions.
Refunds
Have you ever lost money in a vending machine and not known what to do about it? You can request a refund by the following means:
Refunds by Phone
Call UB Snackin' at (716) 645-7355 or the Campus Dining & Shops office (716) 645-2521. You can leave a message for our vending service people at either number. Please leave the following information:
Location of Machine: The building and floor
Type of Machine: Soda, Snack, Beverage
How much money, Dining Points or Campus Cash you lost
Describe problem (as best as you can)
Your full name
Your mailing address
Your call will be processed and a refund will be sent out as soon as possible and the machine that malfunctioned will be serviced.
Refunds on Campus
Refunds for UB Card credits can be processed at the following locations:
UB Card at 1Capen - 1Capen, Capen Hall
UB Card at 1Diefendorf - 1Diefendorf, Diefendorf Hall
Refunds for cash transactions can be processed at the following locations:
Ellicott Food Court & The Elli - Ellicott Complex
Teddy's - Governors
Main St. Market - Goodyear Hall
Union Marketplace & Eatery - Student Union
Harriman Hall
Comments and Suggestions
Campus Dining & Shops is proud to serve you, and we want you to be totally satisfied with the vending service on campus. If you would like to forward a suggestion, Contact Campus Dining and Shops Vending Services.
Vending Locations
North Campus
Academic Buildings
Alumni Arena
Baldy Hall Lounge Area
Capen Hall 1st Floor
Center for the Arts Basement
Clemens Hall Basement 1st & 2nd Floors
Davis Hall 1st Floor
Fronczak Hall 2nd Floor
Furnas Hall 2nd Floor
Jacobs Management Center Basement
Knox Lecture Hall 1st & 2nd Floor
Lockwood Library 2nd Floor
Natural Sciences Complex 2nd Floor
O'Brian Hall 1st & 2nd Floor
Park Hall 1st Floor
Slee Hall
Student Union 1st & 2nd Floors
Residence Halls - Ellicott
Ellicott Food Court
Fargo Quad 1st Floor
Evans Quad 1st Floor & Laundry Area
Richmond Quad 1st Floor & 2nd Floor Fitness Center
Wilkeson Quad 1st Floor Laundry Area
Residence Halls - Governors
Clinton Hall 1st Floor Lounge
Lehman Hall 1st Floor
Dewey Hall 1st Floor Lounge
Roosevelt Hall 1st Floor Lounge
Residence Halls - Greiner
On-Campus Apartments
Flint Village
Hadley Village
South Lake Village
Flickinger Court
Creekside Village
South Campus
Academic Buildings
Biomedical Education Lobby
Clark Hall 1st Floor
Crosby Hall 1st Floor
Diefendorf 1st Floor
Farber Hall Basement
Harriman Hall 1st Floor
Hayes Hall 2nd Floor
Pharmacy Building
Kimball Hall 1st Floor & Basement Lounge
Parker Hall 1st Floor
Service Center
Squire Hall Basement
Wende Hall
Downtown Campus
Academic Buildings
JSMBS 1st Floor
JSMBS 2nd Floor
JSMBS 4th Floor
ATM Locations
North Campus
Bank of America
Student Union (near Suite 150)
Campus Dining & Shops
Student Union (near Tim Horton's)
Capen Hall
The Elli
UB Stadium
Lockwood (2nd floor near Library)
Alumni Arena (1st floor)
SEFCU
Key Bank
The Commons
Student Union (near Suite 150)